Description
Overview
Tech Specs
Features
Accessories
PDF Downloads
Reviews

Model: PACJS1600
Maximum Coverage: 1,000 sq. ft
Airflow: 4,000 CFM
Water Tank Capacity: 42 Gallon
Total Amps: 5.3 a
Speeds: Variable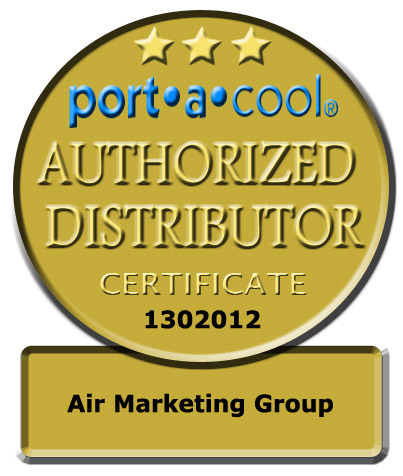 The PORT-A-COOL JETSTREAM 1600 Evaporative Cooler (PACJS1600), the newest offering from Port-A-Cool, LLC, is not just a unit designed for the customer, but is truly a unit designed by the customer.
Current Port-A-Cool® unit owners were asked in a company conducted survey, "If you could design a new model, what features would you include?" Responses included louvers to direct airflow; dual water fill options utilizing the built-in reservoir or a garden hose; quieter operation; a built-in cord wrap; and a larger reservoir allowing for longer run times. All of these are features are found in the all new PORT-A-COOL JETSTREAM™ 1600 portable evaporative cooling unit which cools up to 1,000 square feet making it perfect for mechanic's bays, work shops, small work areas, patios, decks ... anywhere air conditioning is ineffective or cost prohibitive.
The new model includes standard Port-A-Cool® unit features that have made the name a trusted leader in portable evaporative cooling. All Port-A-Cool® units lower temperatures 15 to 25 degrees Fahrenheit using tap water and 115 volts of electricity for an average utility cost of 7.5-cents to 28.2-cents per hour, depending on unit size. The one-piece housing that eliminates leaks and rust, and premium quality KÜÜL® Pads cooling media are just two of the features that make Port-A-Cool® units a portable, powerful and practical cooling choice.
Model: PACJS1600
Cooling Capacity: 1,000 sq. ft.
Airflow: 4,000 cfm
Water Tank Capacity: 42 gallons
Fan Speed: variable
Total Amps: 5.3 a
Unit Dimension: 59"h x 37.5"w x 23.5"d
Box Size: 60"h x 38"w x 24"d
Unit Weight: 109 lbs
Shipping Weight: 140 lbs
Dual Water Fill - Reservoir or garden hose attachment
Directional Adjustable Louvers
New Easy-Rolling Polyolefin Casters
Water Level Sight Tube and Sump Drain
Cord Wrap
Lowers temperatures up to 30°F
42-gallon water reservoir for longer operation
Energy efficient 5.3amps for pump and motor
Durable one-piece, rust-free, leak-proof molded palyethylene housing
Environmentally friendly efficient and effective resource use
Cools for a fraction of cost of air conditioning
Cools without chemicals or refrigerants
Long-term dependability-near mantenance-free operation
Shipped completely assembled-ready to operate out of the box
UL Listed(electric models) in U.S. and Canada