Port-A-Cool JetStream 2400 Portable Evaporative Cooler - PACJS2400
Port-A-Cool JetStream 2400 Portable Evaporative Cooler - PACJS2400
Product Description
Overview
Tech Specs
Features
Accessories
PDF Downloads
Reviews
Model: PACJS2400
Maximum Coverage: 2000 sq. ft
Airflow: 7,500 CFM
Water Tank Capacity: 48 Gallon
Total amps: 9.2 a
Speeds: variable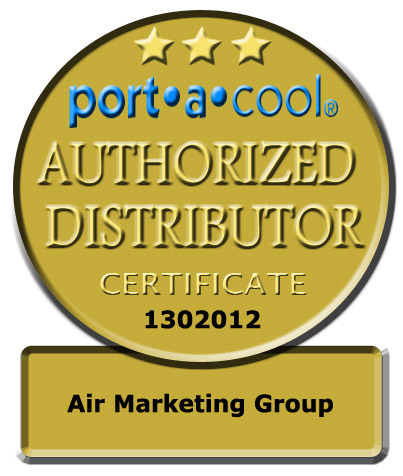 PORT-A-COOL JETSTREAM 2400 Evaporative Cooler (PACJS2400) is brand new for 2010 in the Port-A-Cool® evaporative cooling line. The JetStream™ 2400 has features not offered in any other model and unique among competitors' evaporative cooling products.
The new model includes standard Port-A-Cool® unit features that have made the name a trusted leader in portable evaporative cooling along with a few news ones that make this model unique. The JetStream™ 2400 features a huge 48 gallon water reservoir built into the one-piece leak and rust resistant housing for extending cooling without having to refill. The unit effectively cools a generous 2,000 square foot area and has a handy cord wrap for tidy storage when not in use.
The Port-A-Cool JetStream™ 2400 also features a unique louver panel that allows concentrated spot cooling simultaneously to the left, right, up and down. This can be an effective way to cool assembly lines, shops, industrial equipment, outdoor events, and even animal housing where intense, directed spot cooling is needed. Also great for spot cooling, the easy rolling poly-on-poly casters allow the unit to be moved effortlessly… almost like the cooling unit is moving itself!
All Port-A-Cool® units lower temperatures 15 to 25 degrees Fahrenheit using tap water and 115 volts of electricity for an average utility cost of 7.5-cents to 28.2-cents per hour, depending on unit size. Premium quality KÜÜL® Pads cooling media are included with every Port-A-Cool® unit to make cooling even more effective.
Model: PACJS2400
Cooling Capacity: 2,000 sq. ft.
Airflow: 7,500 cfm
Water Tank Capacity: 48 gallons
Fan Speed: variable
Total Amps: 9.2 a
Unit Dimension: 72"h x 54.5"w x 28"d
Box Size: 73"h x 57"w x 30"d
Unit Weight: 200 lbs
Shipping Weight: 240 lbs
Dual Water Fill - Reservoir or garden hose attachment
Directional Adjustable Louvers
New Easy-Rolling Polyolefin Casters
Water Level Sight Tube and Sump Drain
Cord Wrap
Lowers temperatures up to 30°F
48-gallon water reservoir for longer operation
Energy efficient 9.2amps for pump and motor
Durable one-piece, rust-free, leak-proof molded palyethylene housing
Environmentally friendly efficient and effective resource use
Cools for a fraction of cost of air conditioning
Cools without chemicals or refrigerants
Long-term dependability-near mantenance-free operation
Shipped completely assembled-ready to operate out of the box
UL Listed(electric models) in U.S. and Canada