WhisperKOOL Wall Mounted Platinum Split 4000 Wine Cellar Cooler
WhisperKOOL Wall Mounted Platinum Split 4000 Wine Cellar Cooler
Product Description
Overview
Features
Tech Specs
Accessories
PDF Downloads
Reviews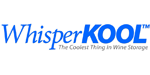 Cooling Capacity @ 55°: 4715 BTUH
Airflow: 270 cfm (cubic feet per minute)
Capacity: 1000 Cu. Ft.
Condensate Drain: 1/2"
At WhisperKOOL, we have redesigned the housing for the Platinum series split system evaporators. While the internal components have proven to be reliable and effective, we have designed new housing systems for improved installation and accessibility. The previous design was a little challenging in terms of mounting and accessing the components for installation. It required the removal of the top or side panel. When racking was installed around the unit, it was difficult to gain access for service or maintenance.
New design makes the units easier to install by gaining access to system from the front of the unit where we have installed removable grills. This greatly improves the ability to install the system and access it for maintenance. Please note that the dimensions have changed slightly. Review the specification section when planning your install to account for the dimensional change. At WhisperKOOL, we believe in the goal of continuous improvement in everything we do in order to enhance the customer's experience.
♦ View more of our WhisperKOOL Products
♦ Click to view more WhisperKOOL Units
Quiet and efficient operation
Advanced electronic display
Liquid bottle probe
Energy saving mode
Alarm capabilities
Flexible installation
55°F temperature differential
Condensing unit can be placed outdoors w/optional housing
Pump down system for longer compressor life
Low ambient control.
Ductless System
Limited 2 year parts and labor warranty
Model: PS 4000

Cellar Size: 1000 cu. ft
dBA: Evaporator: 54 Decibels
dBA: Condenser: 65 Decibels
Dimensions: Evaporator: 20.5"W x 15.5"H x 16"D
Dimensions: Condenser: 11.5"W x 9.91"H x 16"D
Weight: Evaporator: 56
Weight: Condenser: 56
Refrigerant: R-134a
HP: 1/2
Voltage Reading: 115V - 20 amp dedicated circuit required
AMPS (starting/running): Evaporator: 2/1
AMPS (starting/running): Condenser: 15/10
Insulated Line Set: 1/2" Suction • 1/4" Liquid NOT INCLUDED
Installation: Evaporator is installed in the cellar, condenser is installed up to 100 line feet away and with the installation specifications found in the owners manual. Allow for adequate airflow.
Temp. Delta: 55°F temperature differential(maintains proper cellar temperature when exhaust environment does not exceed 110°F)
Thermostat: Digital Control Display