Description
Overview
Tech Specs
Features
Accessories
PDF Downloads
Reviews

Model: PACCYC02
Maximum Coverage: 500 sq. ft
Airflow: 1,600 / 2,000 CFM
Water Tank Capacity: 10 Gallon
Total amps: 2.5 a
Speeds: 2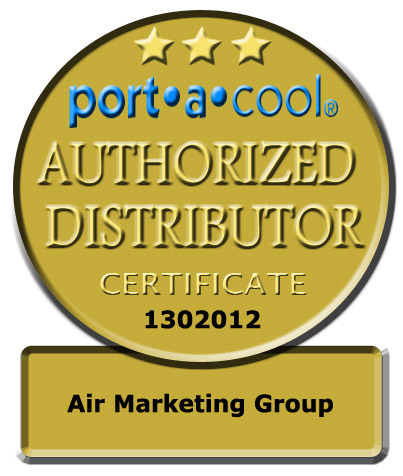 The Port-A-Cool PACCYC02 Cyclone 2000 Portable Evaporative Cooler features a unique centrifugal air delivery system, eliminating the fan blade and reducing noise, but without sacrificing power. The small unit measures just 31 inches high by 25 inches deep and 24 inches wide, the smallest Port-A-Cool® unit yet. The Port-A-Cool PACCYC02 may be small, but produces a powerful 1600 CFM air delivery that cools up to 500 square feet of unobstructed space.
Just like all Port-A-Cool® units, Port-A-Cool Cyclone™ 2000 is manufactured of durable, rust and leak-proof polyethylene plastic, requires very little maintenance, and features simple operation. Just fill the tank with water, plug it in and feel the cool air. Port-A-Cool Cyclone™ 2000 lowers the temperature up to 30˚ F. using just tap water and 115v of electricity.
You'll find Port-A-Cool PACCYC02 is perfect for small workshops, patios, porches, automotive repair bays, personal cooling, pool and gym areas, or anywhere traditional air conditioning methods are ineffective or cost prohibitive.
Model: PACCYC02/PACCYC02A (Black/Sienna)
Cooling Capacity: 500 sq. ft.
Airflow: 1,600 - 2,000 cfm
Water Tank Capacity: 10 gallons
Fan Speed: 2
Total Amps: 2.5 a
Unit Dimension: 31"h x 24"w x 25"d
Box Size: 37"h x 25"w x 27"d
Unit Weight: 61 lbs
Shipping Weight: 72 lbs
Available Color: Black/Sienna
Centrifugal Air Supply
1/3 high performance two-speed motor
Cools 500 sq. ft.
Adjustable Louvers
Quieter Running Centrifugal Fan
Smaller Footprint
Lowers tempratures up to 30°F
Energy efficient 5.6amps for pump and motor
Water level sight tube and sump drain
3/4" garden hose connection for longer running
Durable one-piece, rust-free, leak-proof molded phlyethylene housing.
Environmentally friendly efficient and effective resource use
Cools for a fraction of the cost of air conditioning
Cools without chemicals or refrigerants
Long-term dependability -near maintenance-free operation
Shipped completely assembled - ready to operate out of the box
UL Listed (electric models) in U.S. and Canada