Description
Overview
Tech Specs
Features
Accessories
PDF Downloads
Reviews

Model: PAC163SVT
Maximum Coverage: 900 sq. ft
Airflow: 2,500 / 3,300 / 3,900 CFM
Water Tank Capacity: 42 Gallon
Voltage: 115/1/60
Total amps: 5.1 a
Speeds: 3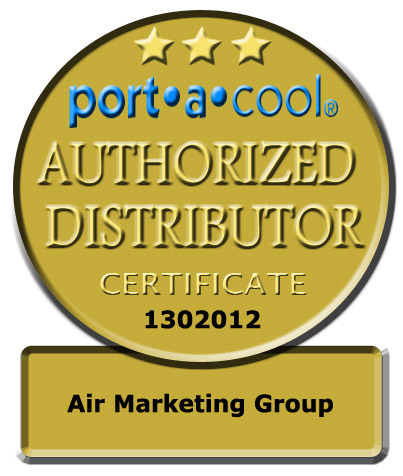 The The Port-A-Cool PAC163SVT 3 Speed Vertical Tank Portable Evaporative Cooler is one of most efficient and environmentally friendly ways to keep cool, indoors or out! You can rely on Port-A-Cool Evaporative Swamp Coolers for all your cooling needs during those hot summer months.
The Port-A-Cool PAC163SVT is extremely powerful and cools with no harmful refrigerants! Its large airflow capacity allows for superior cooling that can cover up to 900-Square Ft. lowering the temperature 15 to 25 degrees. Its 42-Gallon water reservoir can also be manually filled and will provide cold air for up to 8 hours. Super portable and easy to move with its heavy-duty casters, the Port-A-Cool PAC163SVT comes complete with a one year manufacturer's warranty for added peace of mind.
Remember the chill of getting out of a swimming pool on a hot day? That's natural evaporative cooling. Port-A-Cool evaporative swamp coolers create this natural effect and provide a constant flow of cool, refreshing air into hot, uncomfortable environments. The heart of the evaporative cooling system is the KUUL pad where the water evaporates and the air passing through the pads is cooled. The Port-a-Cool evaporative coolers can lower the ambient temperature an average of 20˚F, turning a restrictive 90˚F area into a comfortable 70˚F area. The operating costs of evaporative coolers are 1/3 of a central air conditioner. The initial equipment cost is also lower than air conditioners.
Port-A-Cool products are manufactured in the USA in Center, Texas, and the company is recognized as an industry leader with their products being respected in both the United States and international marketplaces.
Model: PAC163SVT
Cooling Capacity: 900 sq. ft.
Airflow: 2,500 / 3,300 / 3,900 cfm
Water Tank Capacity: 42 gallons
Fan Speed: 3
Total Amps: 5.1 a
Unit Dimension: 59"h x 37.5"w x 23"d
Box Size: 60"h x 38"w x 25"d
Unit Weight: 130 lbs
Shipping Weight: 145 lbs
42 Gallon Water Capacity
Water Level Sight Tube
Cord Wrap
Louers temperatures up to 30°F
Energy efficient 5.1 amps for pump and motor
Water level sight tube and sump drain
Durable one-piece, rust-free, leak-proof molded polyethylene housing
Environmentally friend efficient and effetive resource use
Cools for a fraction of the cost of air conditioning
Cools without chemicals or refrigerants
Long-term dependability - near maintenance - free operation
Shipped completely assembled - ready to operature out of the box
UL Listed (electric models) in U.S. and Canada