YMGI Mini Split DC Inverter Quad Zone Mix & Match
YMGI Mini Split DC Inverter Quad Zone Mix & Match
Product Description
Overview
Tech Specs
Features
PDFs
Warranty
Reviews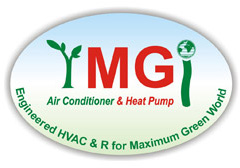 Cooling Capacity: 10,000 - 45,000 BTU Depending On Unit
Heating Capacity: 9,000 - 47,000 BTU Depending On Unit
Efficiency: 16 SEER
Voltage: 208-230/1/60
The YMGI Mini Split Mix & Match is an excellent solution for when you need to cool and heat multiple rooms. This Quad Zone Mini Split comes in a variety of indoor unit types such as high wall, floor and ceiling mount and 4 way ceiling cassette. Mix & match your way to cooling comfort with YMGI's Quad Zone Mini Split today.
General
Cooling Capacity : 10,000 - 45,000 Depending On Unit
Heating Capacity : 9,000 - 47,000 Depending On Unit
Refrigerant / Pre-Charge for 25'(LBs): R410A / 7.27
Power Supply : 208-230/1/60
SEER : 16.0
HSPF : 8.2
Sound Pressure Level dB(A)(H/L) : 60/54
Dimensions Of Outdoor Unit (W x H x D) : 37.4 x 33.1 x 16.5
Net Weight / Gross Weight (LBs): 165/176
DC INVERTER
ADAPTIVE SMART CONTROL
HIGH EFFICIENCY
QUICK COOLING AND HEATING
INDEPENDENT DEHUMIDIFICATION
INTELLIGENT DEFROSTING
QUIET OPERATION
SOFT START
LOW VOLTAGE START
STABLE OPERATION AT LOW FREQUENCY
RANDOM PITCH CROSS FLOW FAN WHEEL
WIDE ANGLE AIR DISTRIBUTION
LONG AIR THROW
WASHABLE FILTER
AUTO DRYING & CLEANING
DRY ANTI-MOLD COIL
REMOTE CONTROL
12 OR 24-HOUR TIMER
MEMORIES & AUTO RESTART
PRE-HEATING PRIOR TO HEATING START
OVERCORRECT & THERMAL PROTECTION
SLEEP MODE
ENHANCED COPPER/COIL
PRE-CHARGED
DIGITAL DISPLAY (LIGHT ON/OFF)
EASY OPERATION
EASY DIAGNOSIS & TROUBLE-SHOOTING
THOROUGHLY TESTED
RELIABLE QUALITY
Air Marketing Group LLC is the ONLY YMGI Factory Authorized Internet Dealer in the USA To Include The YMGI Factory Warranty.
YMGI Factory Warranty will ONLY be valid if purchser returns completed Installer from within 30 days of Purchase.

Please click here for the form!

Factory Warranty:Standard: 5-year compressor and 1 year other parts only warranty. Extended warranty: available upon request.

Click here for federal tax credit information Check with your local Utility Company for possible additional rebates on this product. (AQV09)
Customers also viewed