Description
Overview
Specs
Accessories
What's in the Box
Warranty
PDFs
Reviews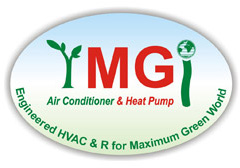 Cooling Capacity: 36,000 BTU
Heating Capacity: 36,000 BTU
Efficiency: up to 22 SEER
Power Supply: 208~230V/1Ph/60Hz
Airflow: 580-740 CFM
Water Removal: 177.6 Pints Per Day

Installation Kit Included, see "what's in the box" for details
YMGI Mini Split Heat Pump WMMS 36K V2B(58)2 is the perfect unit used for bars, hotels, homes, sunrooms, condos, resorts, factories, nursing rooms, apartments, offices, restaurants, mobile homes. Browse all mini split systems for sale on our website.
Features
DC Inverter
Adaptive Smart Control
High Efficiency
Optimized System Design
Quick Cooling and Heating
Independent Dehumidification
Intelligent/Mechanical Defrosting
Quiet Operation
Soft Start
Low Voltage Start
Stable Operation at Low Frequency
Random Pitch Cross Flow Fan Wheel
Wide Angel Air Spread
Long Air Throw
Washable Filter
Dry anti-mold Coil
Remote Controller
24-hour timer
Memories & Auto Restart
208~230V Mini Split - WMMS-36K-V2B(58)(2)
System: WMMS 36K V2B(58)2
Indoor Unit: WMMS-36E-V2B(58)(2)
Outdoor Unit: WMMS-36C-V2B(58)(2)
Refrigerant: R410A
Cooling Capacity: 36,000 BTU
Heating Capacity: 36,000 BTU
Power Supply: 208~230V/1Ph/60Hz
SEER: Up to 22
EER: 9.2
Water Removal: 177.6 Pints Per Day
Indoor Fan Speeds: 4
Airflow: 740/670/640/580 cfm
Compressor Manufacturer: MITSUBISHI
Compressor Type: Rotary DC
Indoor Unit Dimension: 53.1" X 12.8" X 10.0"
Outdoor Unit Dimension: 38.5" X 31.3" X 16.8"
Indoor Unit Weight: 44 lbs.
Outdoor Unit Weight: 161 lbs.
Safety Approval: ETL (C & US)
Performance Approval: AHRI
Controller for thermostat
Wireless Phone Controller
Advanced Heathy Kit (HEPA/Enzyme/Cold Catalyst Filter, Anion Generator)
Remote Controller Lock
Brackets (For Outdoor Unit)
Foot Risers (For Outdoor Unit)
1 Indoor Unit
1 Remote Control
1 Indoor unit wall mount bracket
1 Outdoor Unit
1 installation kit (09K-15ft, others 25 ft copper sets, insulation, wiring cables, wall sleeve pipe, cable tie, pipe wrap, and condensate drain hose)
Standard: 5-year compressor and 1 year other parts only warranty.
Extended warranty: available upon request.